The Ninepin Point Marine Nature Reserve occupies 731.8 hectares in the D'Entrecasteaux Channel near the mouth of the Huon River.
The reserve protects a unique assemblage of plants and animals in an unusual aquatic environment where cold, nutrient-rich sea water from the southern ocean is overlaid with tannin-rich freshwater leached from the decaying organic matter in the Huon River catchment.
"This extensive system of reefs stretches about 100 meters from the shore, into the Huon River. Tannic acid in the Huon River reduces light levels and seems to encourage deep water species to move into the shallows. Bearded Rod Cod, Weedfish, Pipefish and Leatherjackets are common. If you are diving on the shallow parts of the reef you may find small pieces of the 64 ton ketch "Mariner" that was wrecked there in 1925. The kelp gardens near the shore are also quite attractive." Extract from "Dive Tasmania, Jacques 1997"
The plan of attack is to meet at TUDC HQ (gear sheds) at 08:00 to collect gear and organise car pooling.
We will do one shore dive, returning to HQ for gear wash down around 1400.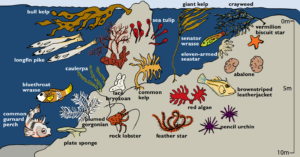 | | |
| --- | --- |
| Dive Coordinator | Eldene O'Shea |
| Dive Qualification Required | Open Water |
| Meeting Location | TUDC Dive shed |
| Dive Cost | 15 |
| Day or Night Dive | Day Dive |
| Number of Dives | 10 |
Refunds
Refunds are at the Dive Coordinator's discretion however the following guidelines apply to normal events:

Cancellation where a replacement diver is found: 100% refund

No show or cancellation with less than 48 Hours notice: 0% refund
Cancellation with greater than 48 Hours but less than a week's notice: 50% refund
Cancellation with greater than a week's notice: 100% refund