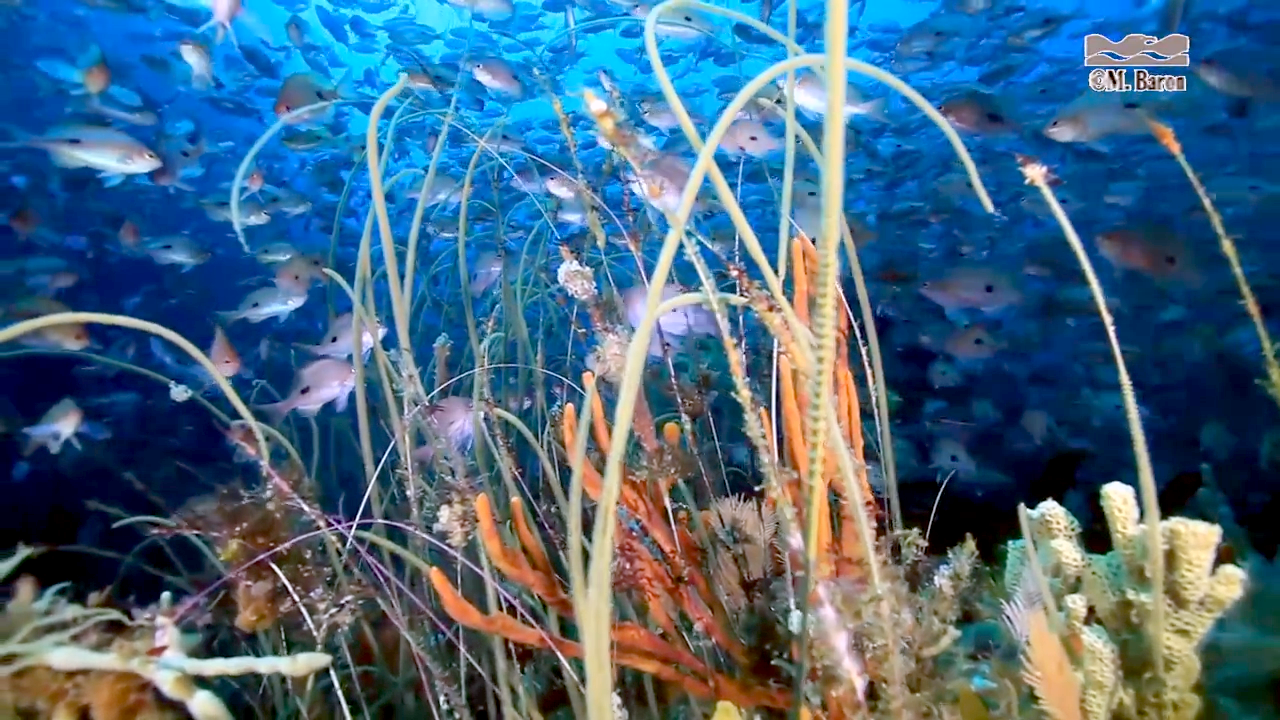 Photo courtesy of M. Baron, Eaglehawk Dive Center
Sisters Rocks is a series of magnificent pinnacles 12 kilometres to the north of Pirates Bay off Cape Surville in 40+ metres, with sheer walls and canyons.
The best diving is on the seaward end of the Outer Sister – Here huge schools of Butterfly Perch patrol the vertical drop-off At the base of the drop-off there are large forests of sea whips, up to two meters in length.
Numerous large bommies and good fish life is a feature of this dive. The walls are covered in Gold Zoanthid Anemones, soft corals and sponges, with dense gardens of sea whips in the deeper parts. Large schools of Butterfly Perch are common.
For advanced and deep divers the best diving is on the seaward end of the Outer Sister that leads to a vertical
The diving is particularly good on the rock walls between the Second and Outer Sister.
The dive can be up to 40 mtrs, Deep Diver cert, but with careful adherence to dive certification it can be enjoyed by Advanced divers at 30 mtrs.
Our second dive can be  a 30 mtr drop onto a reef in the middle of Deep Glen Bay or shallower to visit the Abundant Dragon colony in the back of Deep Glen.
Anyone unwell must not attending club events.
Club dive gear to be washed with approve solution at the end of dive.
Hand sanitiser will be available at the dive.
Please maintain social distancing of 1.5m wherever possible during the event.
Meeting at the Olinda Grove dive shed 7am Sharp for 7.30 am departure.
| | |
| --- | --- |
| Dive Coordinator | Nathan O'Shea |
| Dive Qualification Required | Advanced Open Water |
| Meeting Location | Olinda Grove shed |
| Dive Cost | 70 |
| Day or Night Dive | Day Dive |
| Number of Dives | 2 |
Refunds
Refunds are at the Dive Coordinator's discretion however the following guidelines apply to normal events:

Cancellation where a replacement diver is found: 100% refund

No show or cancellation with less than 48 Hours notice: 0% refund
Cancellation with greater than 48 Hours but less than a week's notice: 50% refund
Cancellation with greater than a week's notice: 100% refund