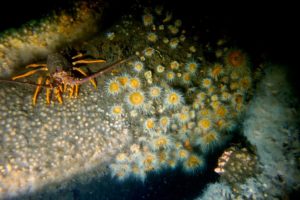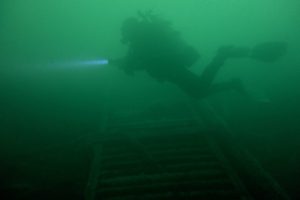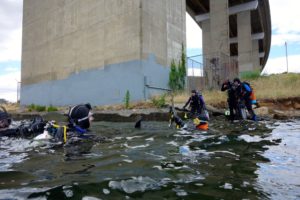 *PLEASE READ IN FULL BEFORE SIGNING UP*
Our favourite new advanced dive site!
We havent dived the bridge at night yet, and it may not be much different from day (with the bad visability and green water) but the creatures may differ (maybe more sharks).
This dive site is not for the faint hearted. Last dive I personally saw two 6ft sevengill sharks, they can see you but you don't see them until they are right in your face.
The bridge wreckage and sticky outy things down there can easily snag a diver so experience and confidence are a must (please don't come to test your confidence, you can do that during the day).
Despite those things, it's a cool, deep dive (up to 30m) with the eerie atmosphere and collapsed structure homing fish, anemones, giant crays and sharks.
The dive is dependent on tides, so I have set it at 20:30 (slack water). Be at the dive site 19:45. Dive site is the bridge accessed from the eastern shore. It's a short scramble over some rocks to get in the water.
DIVER MINIMUM REQUIREMENTS:
Advanced open water with 30+ Dives, 10 night dives. If you don't know me, please email me milliebanner@yahoo.com.au with your experience and a photo of your dive cards.
2 torches, one good one and a back up
computer
Good warm wetsuit or dry suit
| | |
| --- | --- |
| Dive Coordinator | Millie Banner |
| Dive Qualification Required | Advanced Open Water |
| Meeting Location | Tasman bridge |
| Dive Cost | 10 |
| Day or Night Dive | Night Dive |
| Number of Dives | 1 |
Refunds
Refunds are at the Dive Coordinator's discretion however the following guidelines apply to normal events:

Cancellation where a replacement diver is found: 100% refund

No show or cancellation with less than 48 Hours notice: 0% refund
Cancellation with greater than 48 Hours but less than a week's notice: 50% refund
Cancellation with greater than a week's notice: 100% refund