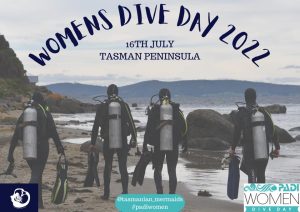 We're joining the Mermaids and other clubs in the Tasman Peninsula for PADI Women's Dive Day! Everyone is welcome, not just women of course! You'll meet lots of crazy divers, see some cool fish who are having an existential crisis (just like you after week 1 of uni!) and plunge into chilly waters, so there's really no reason not to go diving this weekend!! Any questions – please let me know!
The price is $40 for gear hire and BBQ, $7 for just BBQ or free for updates 😛
The weekend will look something like this:
Saturday 8am – leave Dive Shed for Tasman Peninsula
Morning – shore dive!
Afternoon – BBQ lunch followed by another dive
Head back to accommodation
5pm – LUFRA Hotel presentation night involving many different clubs
Sunday morning – another shore dive! Then head back to Hobart
What is the LUFRA Hotel presentation night?
Tasmanian Mermaids are hosting an evening of presentations (more details on speakers coming soon!) with prizes from heaps of amazing sponsors. Funds raised from the evening will go towards new housing facilities for the rehabilitation and care of Seabirds at Bonorong Wildlife Sanctuary. So come join us for a hot meal and support an amazing cause and maybe even win a prize!
Here's a description of some potential shore dives we'll go on!
Fortescue Bay
Previously the site of a very healthy kelp forest – when the kelp is in full bloom this is one of the nicest shore dives in Tasmania. For the visitor it is the perfect introduction into the splendor of a Macrocystis kelp forest. The bottom is dominated by sand and rock and these patches of rock formed holding points for vast columns of kelp that rose to the surface ten meters above. The patches of sand on the bottom reflect the sunlight to make the dive bright and clear. Good visibility will make this dive an unforgettable experience. The kelp also attracts a lot of fish life and abalone are easily found. The quality of this dive docs vary considerably depending on natural cyclical factors. In good years the kelp can grow out in depths up to 20 meters. [Site Descriptions from "Dive Tasmania, Jacques 1997"]
Safety Cove
Another nearby shore dive, perfect for beginners with an easy entry and sheltered location. This dive will also be pretty shallow, likely 5-9m. It is a rocky reef with a lovely weed garden so lots of colourful seaweeds and algaes as well as all your classic reef fish and occasional large groups of schooling trumpeter.
$40 includes the cost of:
2-3 shore dives (including tanks, air, BCD, regs, weights)
BBQ lunch on Saturday

We'll supply you lunch if you tell us you want lunch in the comment box, and what dietary needs you have

Good vibes
YOU will need to organise your own:
Ticket for the Saturday dinner event are about $50, or $10 for presentation without dinner (see details here)
Accommodation!

At the time of writing there are 12 beds available at the Eaglehawk Dive Centre for $30. These will go quickly so book ASAP by calling the dive centre on their phone [+61 (3) 6250 3566] or mobile [+61 (417) 013 518].
Otherwise please book your own accommodation (such as an Airbnb), or…
Grab your tent! There are camping spots at Eaglehawk Dive Centre and Fortescue Bay. Our Secretary, Andrew, is kindly offering his block in Taranna for camping over the weekend (free of charge, with toilets nearby). If you're camping please remember: Tassie is very cold overnight in Winter, especially after diving, so please come adequately prepared with warm gear.

Dive gear that's not included:

Wetsuit/drysuit, booties, fins, mask, snorkel, gloves, etc.
| | |
| --- | --- |
| Dive Coordinator | Alyce Heap |
| Dive Qualification Required | Open Water |
| Meeting Location | Dive Shed (40 Olinda Grove, Mt Nelson) |
| Dive Cost | 40 |
| Day or Night Dive | Day Dive |
| Number of Dives | 3 |
Refunds
Refunds are at the Dive Coordinator's discretion however the following guidelines apply to normal events:

Cancellation where a replacement diver is found: 100% refund

No show or cancellation with less than 48 Hours notice: 0% refund
Cancellation with greater than 48 Hours but less than a week's notice: 50% refund
Cancellation with greater than a week's notice: 100% refund