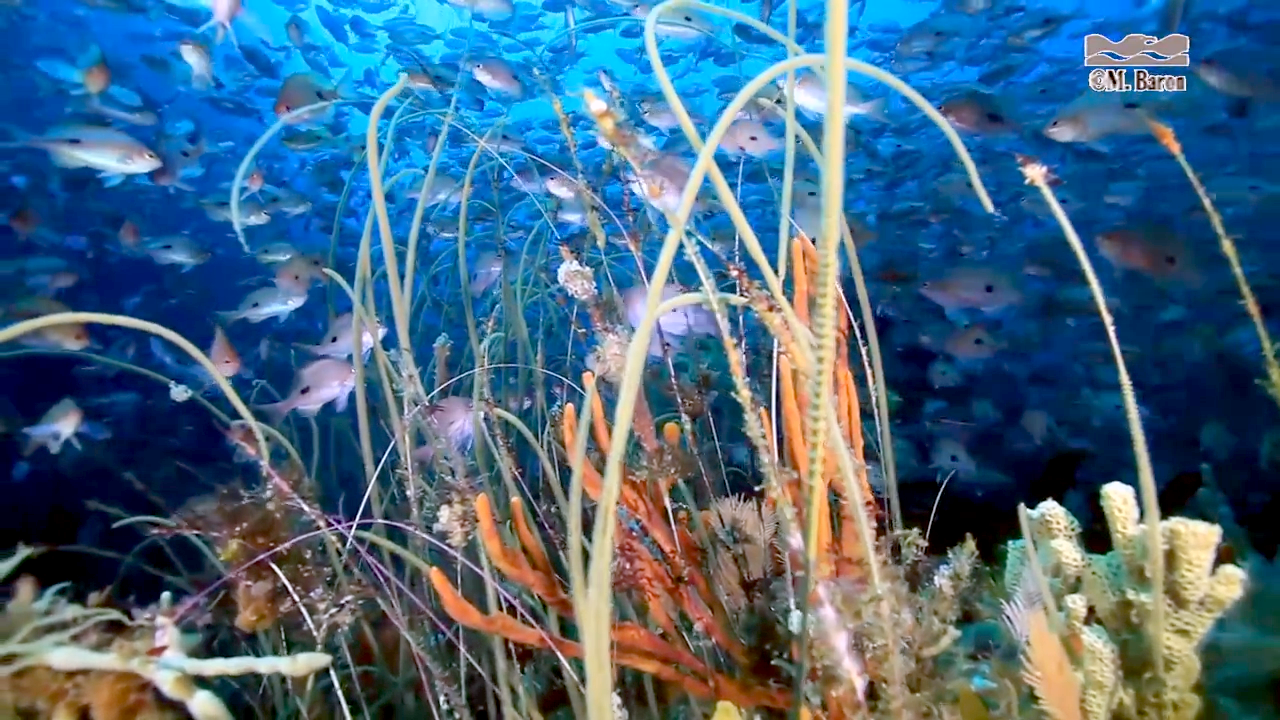 Photo courtesy of M. Baron, Eaglehawk Dive Center
Sisters Rocks is a series of magnificent pinnacles 12 kilometres to the north of Pirates Bay off Cape Surville in 40+ metres, with sheer walls and canyons.
The best diving is on the seaward end of the Outer Sister. Here huge schools of Butterfly Perch patrol the vertical drop-off At the base of the drop-off there are large forests of sea whips, up to two meters in length. Numerous large bommies and good fish life is a feature of this dive. The walls are covered in Gold Zoanthid Anemones, soft corals and sponges, with dense gardens of sea whips in the deeper parts. Large schools of Butterfly Perch are common.
For advanced and deep divers the best diving is on the seaward end of the Outer Sister that leads to a vertical drop-off.
Open water certification holders will find good diving on the rock walls and reefs along the sides of the island chain.
The diving is particularly good on the rock walls between the Second and Outer Sister.
Deep Glen Bay – Ope n water divers will drop in close to the shore to 18 meters, the bottom supports a large weed garden which is covered in the usual varieties of reef fish.
Advanced divers will follow the North Wall – a sheer wall from the surface to 30 meters, with shelves and tumbles of huge boulders down to 40+ meters.
The wall is rich in colourful encrusting invertebrates, and home to a pair of elusive Zeibel's Handfish.
The deeper area has spectacular sponge gardens full of colour. Large schools of Butterfly Perch are common.
The area is exposed and the rocks are subject to a noticeable current at times, so please have 20+ dives up your sleeve.
Water and surface interval lollies will be provided!
OPEN WATER WITH 20+ DIVES REQUIRED.
If you plan to go deeper than 30m then DEEP DIVER QUALIFIED REQUIRED.
Nitrox is available.
Deco run-times are welcomed.
$5 discount if you bring your own gear and another fiver off f you have your own tanks too!
| | |
| --- | --- |
| Dive Coordinator | David Page |
| Dive Qualification Required | Open Water |
| Meeting Location | Olinda Grove Dive Sheds |
| Dive Cost | 80 |
| Day or Night Dive | Day Dive |
| Number of Dives | 2 |
Refunds
Refunds are at the Dive Coordinator's discretion however the following guidelines apply to normal events:

Cancellation where a replacement diver is found: 100% refund

No show or cancellation with less than 48 Hours notice: 0% refund
Cancellation with greater than 48 Hours but less than a week's notice: 50% refund
Cancellation with greater than a week's notice: 100% refund